Perfecting your Tweet Timing
Posted November 8th, 2012 in Marketing by terris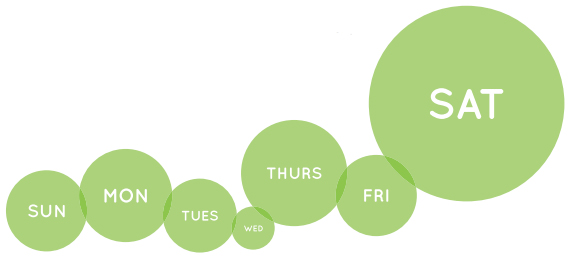 You may often wonder when is the best possible time for you to be tweeting. Catching people's attention on Twitter can be a challenging experience, but there are certain times and days that can work in your company's favour.
Think about Weekends
Tweets on the weekend perform about 50% better on average, according to Social Media Today. Specifically, we see an increase in the number of comments when a post is written over the weekend. This is likely due to the fact that people have more time.
Nighttime Optimal for Tweets
Tweeting in the evening causes 60% more Retweets than it would during the day. This is similar for Facebook Posts. Different than Facebook, tweets that were written overnight and in the early morning performed better, performing better than daytime Tweets by over 100%. Out-of-hours Tweets tend to perform better because there is a lack of competition.  may perform better is lack of competition.
Businesses are Tweeting at the Wrong Times
Even though we know that tweeting at night is best, businesses are still focusing on tweeting during business hours.
Because of this, they are aiming at a smaller audience during a very competitive time. This results in getting half the amount of responses.
However, you should always use caution. If you are targeting a person of specific business during peak work hours, it does not make sense to tweet them outside of work hours.
When targeting a non-business audience, here are some tips:
Look at tweets on a consistent basis throughout the day. Unless there is some reason to tweet during business hours, try to avoid this practice.
For many products, morning and evening Tweets are best.
Try to tweet equally over the days of the week.
Be sure to think about holidays and other cultural events that might get in the way of your tweets.
Remember that your audience may be in different timezones.
Knowing the best time to tweet can really enhance your business practices. By tweeting at the right time, you can reach the proper audience that you can engage with. Consider tweeting outside of office hours and in the nighttime in order to best put your message out there.
Liked this blog post from Global Bend? Get more social media and SEO tips delivered directly to your website. Sign up for our newsletter today or subscribe to our RSS feed!